"Content is king"- you must have heard this n number of times, but do you really know how to make complete sense of this statement? What does it mean for you, and what you need to do to become the "king of the content"?
Well, you need to consider everything you publish in the form of content, which means you need to understand that not only your blogs but your website content is also impeccable. And here I am going to tell you how you can ace creating content for a website.
But! Before you get started with the creation of website content, it is essential to understand why it is vital for your website. So, before we jump into the main topic, let's get this concept clear.
Why is Content important for your Website?
It would be less of a statement to say content is vital for your website. High-quality content should be the foundation of your website and its structure.
Content serves the following purpose for a website:
Now that we know how content impacts our website, I am sure you will put some extra effort into making it better. To guide you with this process, I present the six content writing tips that will help you ensure the quality and structure of your web content.
So, let's dive in.
Factors to consider while creating Content for Website
Create a Content Strategy
While you create the content strategy for your website, you must remember that it is not enough to think from the point of view of a content writer; you must take the following peer disciplines into account:
This certainly doesn't mean team members from each of these niches will have a say in your content strategy or the format. However, it is essential to synchronize your content with a clear concept of all of the aforementioned factors. This is important to optimize content for your website and navigate the visitors through the important stuff.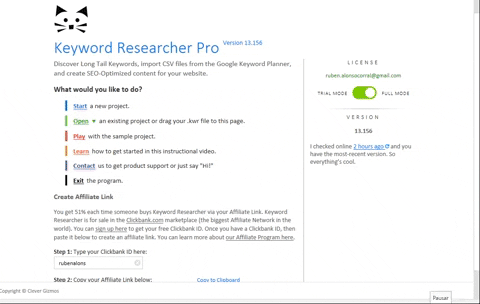 Consider your Audience's Readability
There are no second thoughts about the fact that your content has to be made, keeping the visitors in mind, as its primary objective is to meet the users' expectations and fulfill the business goals.
Thus, it is crucial to define your target audience and keep the readability of your content as per their literacy level. For instance, if you create your content by keeping visitors with high literacy levels in mind, those with low literacy levels will find it challenging to perform the tasks they are supposed to.
This directly impacts the quality of the user experience you are offering. The bottom line: keep your content simple and straightforward to improve readability.
Examine five W's (and H) of Content
Usually, this formula is used in journalistic writings to ensure the story conveyed is watertight. However, I found this perfectly relevant while designing website and creating content. The formula stands for the following:
Why: Why are you embarking on this project. Here I defined the business case and the primary objectives in mind.
What: What is the message you want to convey through your content
Who: Who is the audience? Who are you creating the content for?
Where: Where will the content be read? Here you need to consider device, location, and context.
How: How should we present the content? Define the structure, the framework, and the tone of the content.
When: The timeline that you need to consider while creating the content.
This basic formula will give you a checklist to ensure that your content strategy covers all bases.
Set the Voice and Tone of your Content
You will most definitely agree that a brand's voice is a significant factor in creating a distinct identity. It should be consistent across all channels and all content. However, the tone is something that needs to adapt to the relevancy and context of the content.
So, how do I define these two and make sure they work in favor of my brand?
The first thing to do is realize the nature of your business and decide how you want to market your brand. Are you expecting very serious and technical people to visit the website? Or is there scope for humor?
You can always find the best fit for you by analyzing the website's design and UI.
Prefer Reading- how Web Design impacts Content Marketing
Focus on Search Engine Optimization
Experts always say that SEO should be at the core of all content strategies. Even though it is genuinely getting harder and harder to rank on the first page of search engine results, we shouldn't give it up.
Instead, we should concentrate on improving our White Hat SEO and inbound marketing outputs. In other words, the best way to secure a higher ranking in search engines is by creating valuable and purposeful content and grabbing users' genuine attention by helping them.
A well-positioned content strategy should not only make sure that the content is according to the webmaster guidelines of respective search engines but should also contribute to building the brand.
I am sharing some essential tips that helped me:
Create interesting & valuable Content
While producing a website content, make sure you look at it from a layman's perspective. Unlike you, the visitors are unaware of the functioning of your website and that of your business. Make sure you provide enough information on relevant topics to guide your visitors.
However, while doing this, you should avoid using jargon as much as possible and make it a crisp reading for them. Consider the questions they may have and help them find the answers as quickly as possible.
Maintain synchronization and relevancy within the content and inspire audiences to take action.
In a Crux
Creating content for an entire website is quite a task and takes longer than anticipated. However, with a little bit of patience and a lot of research, you can definitely get your head around it and provide content that not only engages your audience but also fulfills the business goals of your website. So get ready for website redesign by upgrading content quality.
And, contact us if you are having more queries on creating the best content for your website.
Editor- Divya Verma
Frequently Asked Questions