Stripe is a payment processing platform that allows you to transfer money from a customer's bank account into your business's account by a credit or debit card transaction. Once you integrate Stripe with your HubSpot account, you can bill your customers directly from the quote, and send payment to your integrated Stripe account.
Connect Stripe account with your HubSpot account
Activate your Stripe account before connecting it to your HubSpot account.
To connect your Stripe account to HubSpot:
Click the Marketplace icon in the main navigation bar of your HubSpot account. Select App Marketplace.
Click Manage, select click Visit App Marketplace.
Search for Stripe in the search bar, then select Stripe.
Click the Connect app. A pop-up window will be opened where you have to fill up the required information. Or, click Sign in if you already have a Stripe account.
Click Authorize access to this account to complete integrating your stripe account with HubSpot.
Send quote payments to connected Stripe account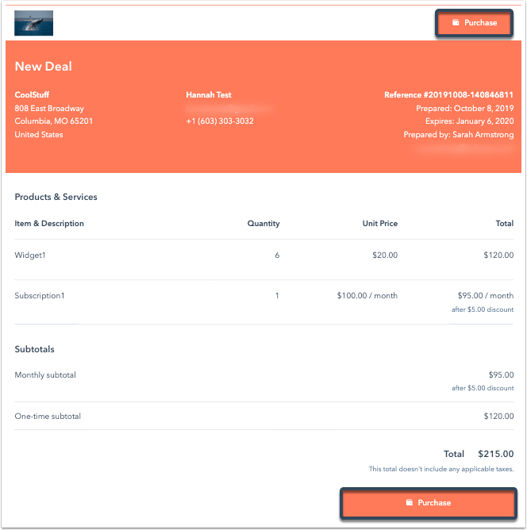 Now that you have connected Stripe account with your HubSpot ant, you can create payments for your customers on your quotes.
Go to Sales > Quotes in your HubSpot account.
Click Create quote.
Continue to set up your quote. On the Signature & Payment screen, click to toggle the Use a connected Stripe account switch on.
Once you enable the Use a connected Stripe account option, customers will see the Purchase button at the top or bottom of the quote and will be able to make a payment by clicking it.

When the payment is done, HubSpot will create a new customer in Stripe. It will sync the following properties to the newly created customer in Stripe:

Email address
Company name